MISSION
Australianboard.com born in 2007 as a forum with the purpose to connect and exchange information about Australia. After some years the community became big enough to convince the owner in creating a business out of the numerous request from members who wanted help in enrolling in schools in Australia, developing International Study Solutions, an education agency based in Sydney and the community transfer most of his contents on social media such as Facebook, Youtube, Instagram and Twitter to be reachable within this platforms.
case study
From the year 2015 to 2018 my main objective was to create contents for the website, such as articles, and specific posts in order to maintain high interest for the followers and increase the number of likes and engagement mainly on the Facebook page.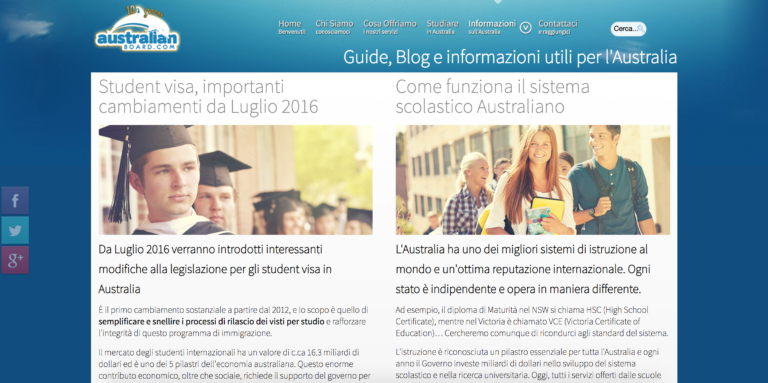 As the main content creator for the website and social media pages, my objective was to analyze the target and the market in order to find topic of interest and able to increase the engagement on Facebook.
Since Australianboard rely on the software Zoho One as CRM (Customer Relationship Manager) for the management of their business, I was able to work with a set of app to control marketing activities and post.
After some researches in accordance with company lines and owners, I create the weekly editorial line.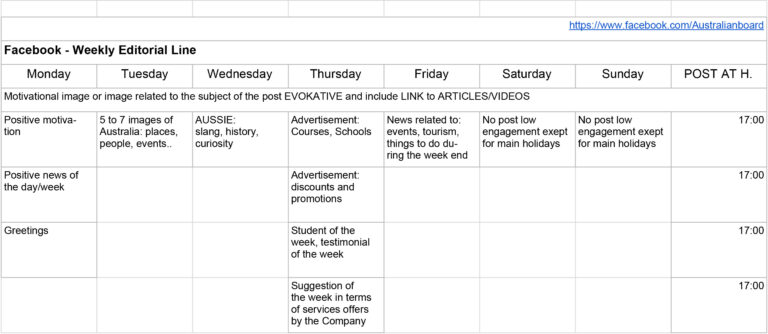 The approved editorial line was repeated weekly in order to maintain continuity in the making of the posts, always accompanied with an evocative image and the link to the articles on the blog of the website. I was in charge of creating the images using an unique filter and adding the logo. According with the timetable of the followers both in Italy and Australia (mainly), we decided to fix the hour for posting at 5 pm AEST.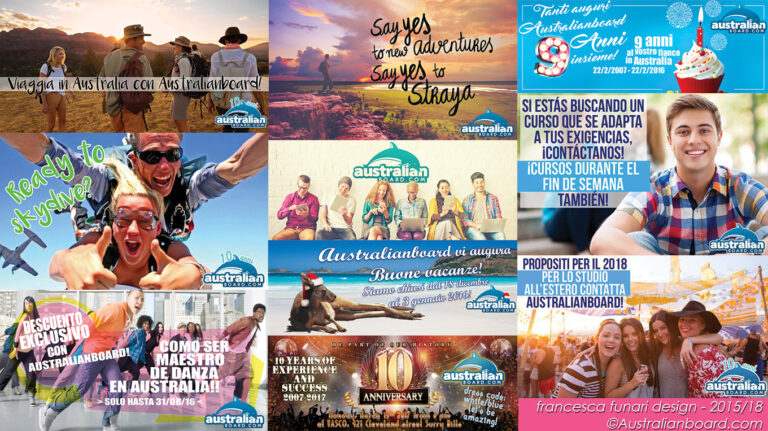 I was also in charge of creating the cover image for social media and customized images for public holidays, celebrations and events (Christmas, New Year's Eve). 
impact
During the years I worked on this project the engagement on the social media pages and the clicks on the articles of the Company's website increased considerably. The followers on Facebook doubled (from around 23,000 to over 45,000) that results in opening a new Facebook page dedicated mainly to the Community, the creation of the Instagram profile and the opening of the new branch in Perth.
Consideration
I am not able to verify the current trend on this pages but I am still in contact with the owner which admit a decreased engagement both on social media and the website, and loss of likes.